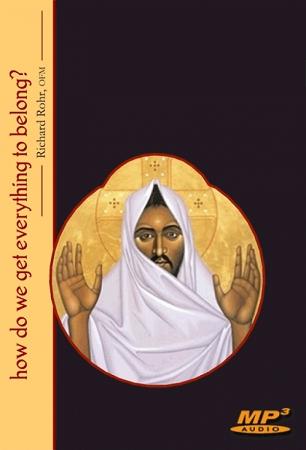 How Do We Get Everything to "Belong"? ~ MP3
The International Association of Spiritual Directors based their 2004 convention theme on the best-selling book, Everything Belongs. In his talks at the convention, Richard Rohr, the author, wove the threads of his teachings into a coherent view of the struggle that we all face to be in the place where "everything belongs."
This teaching is excellent for spiritual directors and for all serious sojourners on the path of spiritual discovery and transformation. Richard illustrates the importance of the stumbling blocks that life inevitably places in our paths that lead us into liminal space, where transformation takes place. Thus we emerge within a larger identity; we learn to live with paradox and to be held in the Presence. Richard shows how these themes appear in all the major religious traditions. His teaching style makes use of Scripture, life experiences, insights from other authentic teachers, and deeply moving poetry.
Approximate length: 3 hours
Click here to download and print this product's insert.
This is a downloadable MP3 audio file.