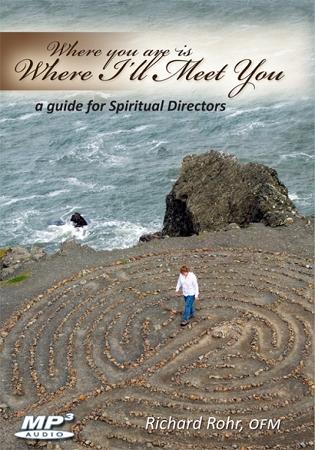 Where You Are is Where I'll Meet You -- A Guide for Spiritual Directors ~ MP3
As Richard Rohr led a weekend retreat with the Spiritual Directors of Colorado, he shared his many years of experience as a spiritual director, offering an insightful tool which is helpful for spiritual directors, as well as for people receiving spiritual direction.
Richard quoted the early Franciscan scholar, John Duns Scotus, and many other spiritual masters: "Whatever is received is received according to the manner/mode of the receiver." The masters recognized that people are living at different levels or stages of awareness in their spiritual journey.
The journey is much more complex and subtle than any system of defined levels or stages can express. Nevertheless, the tool helps the Spiritual Director understand better the dynamic of the directee's inner life, and where on the spectrum to best encounter that directee.
In this retreat, Richard identifies and discusses each level, or stage, of the tool. He cautions listeners to avoid the ego-trap of wanting to know the level they currently occupy, thus erroneously using it as some sort of identity enhancer or parlor game. It is a non-judgmental tool intended to help spiritual directors assist people to deepen their faith.
Click here to download and print this product's insert.
Approximate length: 2 hours
This is a downloadable MP3 audio file. Also available as a CD.
Please be aware that MP3 purchases are non-refundable. If you don't feel comfortable downloading a .zip file, please consider purchasing CDs instead.