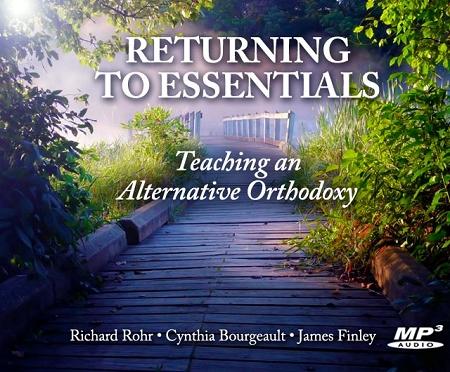 Returning to Essentials: Teaching an Alternative Orthodoxy ~ MP3
Richard Rohr, Cynthia Bourgeault, and James Finley explore an alternative orthodoxy, a different way of believing and practicing the Christian faith. In conversation with each other and in response to thoughtful questions, they point us to essential, yet often overlooked, mystical and wisdom teachings. These insights are "alternative" simply because they focus on themes that have been neglected by mainline Christianity in recent times; yet they are as "orthodox" as many more familiar beliefs. As Rohr says, "Honor the truth wherever you find it. If it's true, it's true."
These master teachers present an alternative orthodoxy that reveals an evolutionary, inclusive, and heart-centered spirituality. Rohr, Bourgeault, and Finley bring front and center the seeming foolishness that has been relegated to the periphery of our tradition for the last few centuries. They offer an invitation to return to the original, grounding reality of the Gospels. Can these different facets of belief bring hope and healing to our lives, the Church, and the world? See for yourself.
Richard Rohr, Cynthia Bourgeault, and James Finley are core faculty members at the CAC. Learn more about them by clicking here.
This talk was presented via webcast in 2014.
Approximate length: 85 minutes
This is a downloadable MP3 audio file. Also available as a CD.
Please be aware that MP3 purchases are non-refundable. If you don't feel comfortable downloading a .zip file, please consider purchasing CDs instead.