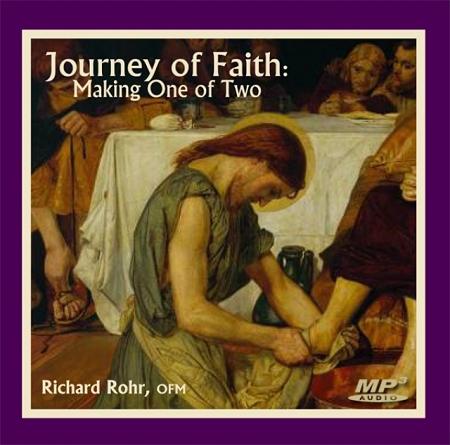 Journey of Faith: Making One of Two ~ MP3
"Religion has a bad name at a broad level; that which was the best thing has become the worst thing." With these words, Richard Rohr begins a remarkable Palm Sunday presentation. "The job description of healthy religion is making one out of two, reconciling everything; there is one God, one world, and all are children of God. Everything deserves respect."
This talk leads us to discover the importance of contemplative prayer to overcome the split in our thinking, and the courage to embrace the wounds of life. Richard shows us that life's journey requires faith, which is "not-knowing," yet we can be happy, experience being held, and see in a new way. God's love is available for everyone, even if we don't know where life is taking us, and even though we may feel helpless.
We come to recognize the reality of Jesus' promise to abide with us—there is no better news than that. Christianity has lost the essential mystical vision that moved the early Church to form community and, in today's world, the mystical vision is essential for Christianity's relevance in our lives. This unitary vision is what enables us to care about others, to serve compassionately and to work for social justice.
Infused with poetry and quotes from Scripture and other writers, Richard brings us a great gift with this dynamic teaching.
Approximate length: 75 minutes
Production date: 2007
This is a downloadable MP3 audio file.
Please be aware that MP3 purchases are non-refundable.