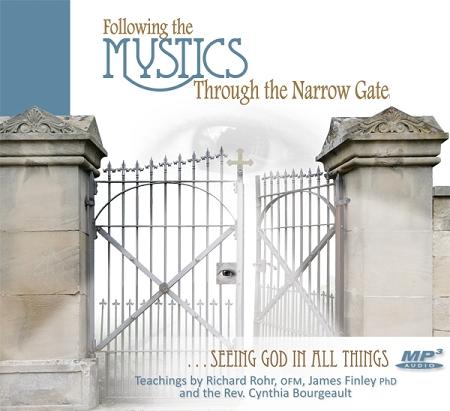 Following the Mystics through the Narrow Gate ~ MP3
Richard Rohr and James Finley lead us on a journey through the "narrow gate" into God's presence. They follow the path of mystics from ancient times to modern and from various traditions—Christian, Sufi, Buddhist, Hindu, and others—ever in pursuit of union with God and all that is. They describe the mystical experience of knowing and being known by God as a mutual dance of awakening desire and love.
Cynthia Bourgeault introduces sacred Christian chant as a way of placing the mind in the heart and thus being able to know truth more deeply and completely. Chants are interspersed throughout the talks, and they draw listeners into a contemplative engagement with the teachings. She joins Rohr and Finley in responding to thoughtful questions, simultaneously clarifying and deepening the mystery.
Richard Rohr, Cynthia Bourgeault, and James Finley are core faculty members at the CAC. Learn more about them by clicking here.
These teachings were presented at a conference in 2010.
Approximate length: 9 hours
Click here to download and print this product's insert.
Preview a short excerpt from this teaching: