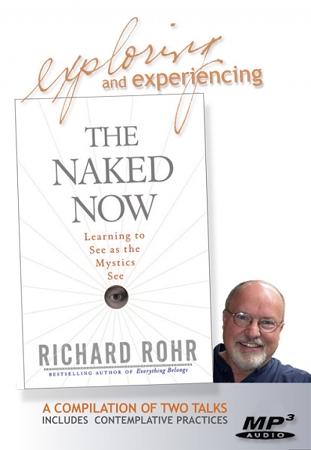 Exploring and Experiencing The Naked Now: A Compilation ~ MP3
A compilation of two talks by Richard Rohr, on his best-selling book The Naked Now.
In the first talk, Richard explores the main themes of his book The Naked Now: Learning to See as the Mystics See. Contemplative seeing is the "lost treasure" from our Christian tradition. Recognizing this opens us to the adventure of a new life.
In the second talk, Richard leads us to experience a new way to process reality, not knowing by thinking, but by encountering. Our heritage is experiential Christianity; to know it for ourselves. This talk opens Scripture to reveal the goal of religion. Hear his central message directly from the author, and why it is so important for anyone on a serious spiritual journey, trying to follow the "deeper wisdom teaching that Jesus so ideally taught."
Both talks are followed by Question and Response sessions. An additional bonus section presents several contemplative practices to help the seeker.
Approximate length: 4 hours
This is a downloadable MP3 audio file.